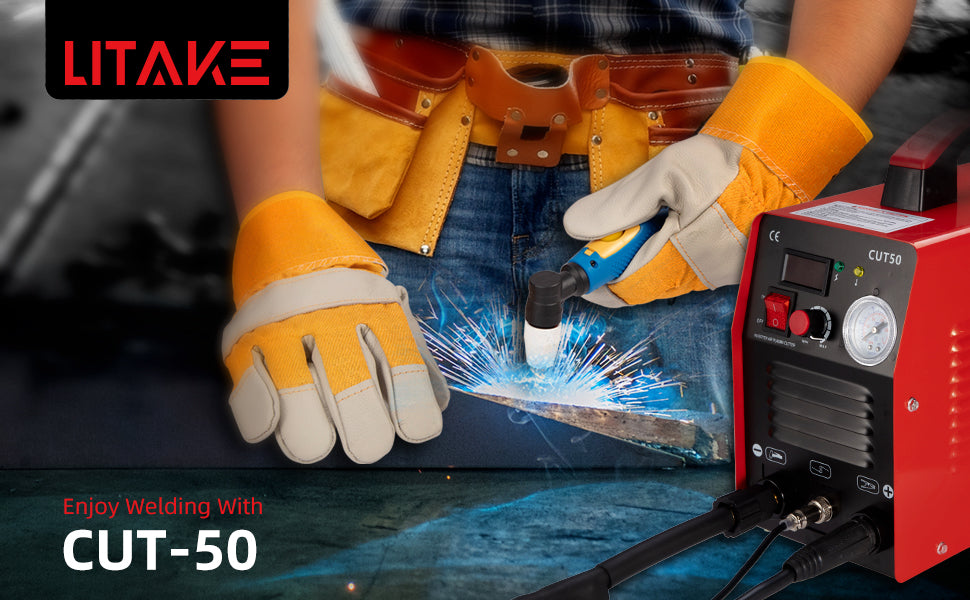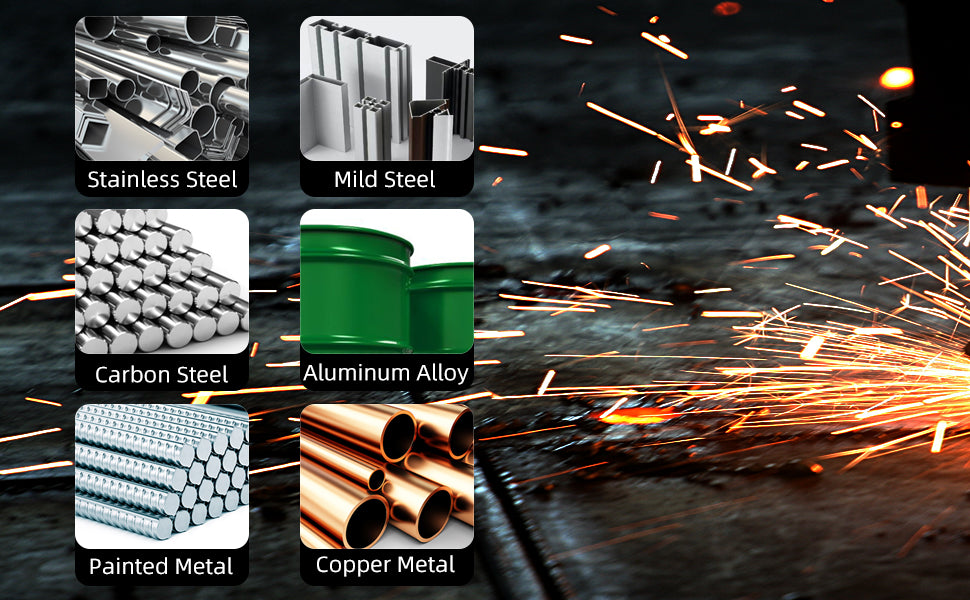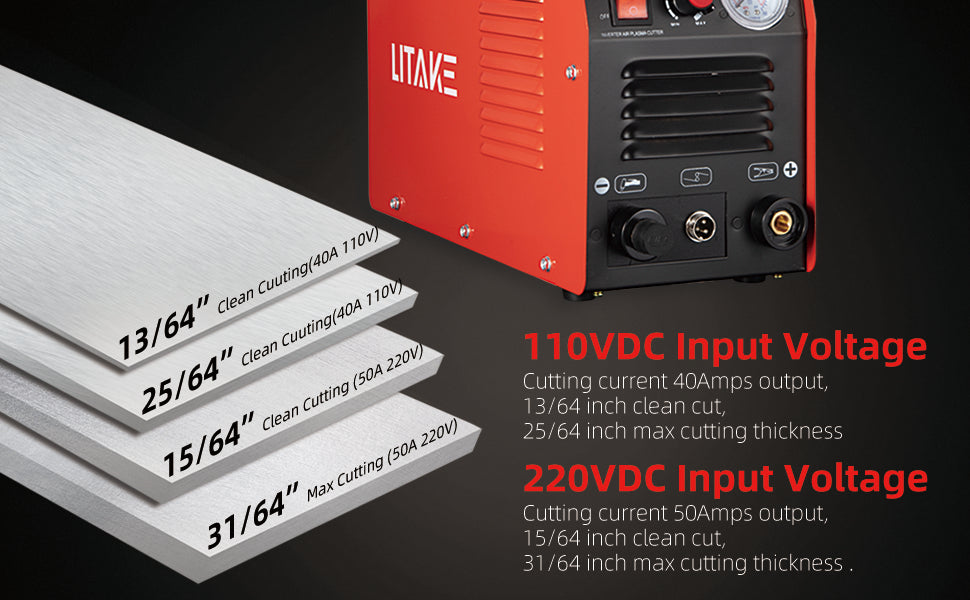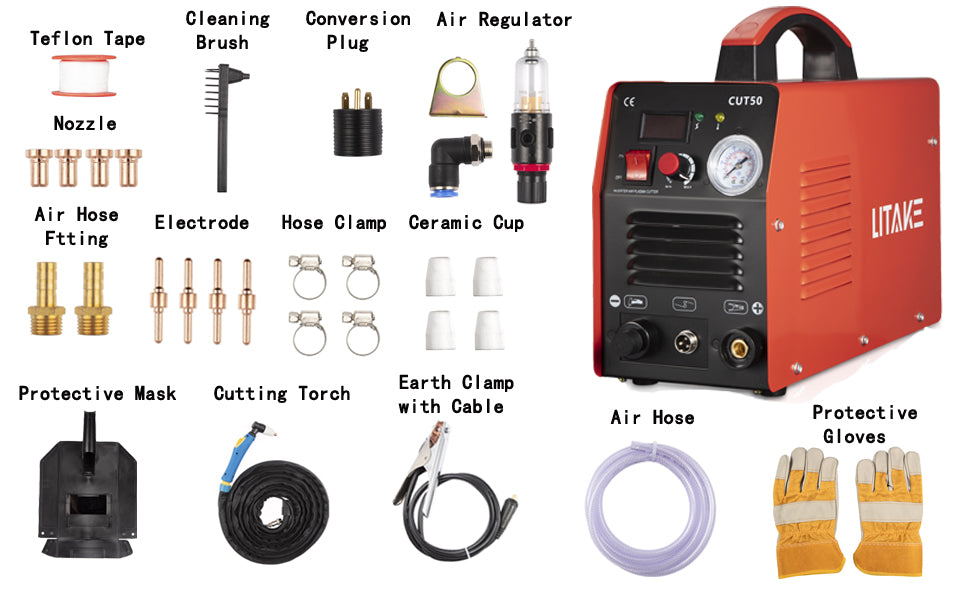 Non-Touch Pilot Arc Plasma Cutter
Pilot Arc Technology allows you to cut without touching the tip to metal. The CUT-50 cuts rusted, rough or painted surfaces effectively and produces very little dross during the cutting process. CUT-50 plasma cutting machine has better cutting quality and longer wearing parts life.
Excellent Performance
20-50 A output, 2/5″ (10mm) ideal clean cuts and 4/7″ (14mm) maximum cut thickness under 220V; 10-35 A output, 1/3″ (8mm) ideal clean cuts and a maximum cut thickness of 2/5″ (10mm) under 110V. This plasma cutter suitable for cutting alloy steel, stainless steel, copper, aluminum and other metals.
Dual Voltage Input
This plasma cutting machine supports 110V / 220V switching input power supply. 110V, 50/60Hz @ 35 A input; 220V, 50/60Hz @ 28 A input. The product comes with a power conversion plug, which can be plug and play in different environments.
Cutting Thickness
The machine is equipped with a current display. You can choose the current to match the air pressure through the cutting chart which mention in manual, expediently and efficiently. Current display at 110V is 10-35A, Under 220V current display is 10-50A, the maximum cutting thickness is recommended to be 8mm @ 35A 110V, 60PSI; 10mm@50A 220V 70 PSI.
Safe & Portable
The plasma cutter is small in size, light in weight, and comes with a handle for easy portability. Plasma cutter with built-in over-heat protection, over-voltage protection, strong heat dissipation, good insulation.Adopt air pressure adjustment device,use non-hazardous compressed air to cut stainless steel, alloy steel, mild steel, copper, and other metals.
Specifications??/strong>
Brand
LITAKE
Model Number
CUT50
Color
Red
Power Supply Voltag
110V-220V / 50-60Hz
Output Current Range
20A-50A
No-Load Voltage
230±10V
Rated Input Capacity
5.0kVA
Efficiency
93%
Insulation Grade
IP21
Quality Cutting Thickness
110V@1/3″(8mm);220V@2/5″(10mm)
Maximum cutting thickness
14mm
Arc Ignition Method
HF Arc Starting
Net Weight
13.77 lb / 6.2 kg
Package Dimensions
18.5 x 10.2 x 13.4 inches
Package Contents
1 × Plasma Cutter
1 × Cutting Torch
1 × Earth Clamp with Cable
1 × Air Hose
1 × Teflon Tape
1 × Cleaning Brush
1 × Conversion Plug
1 × 90°Elbow Fittings
2 × Air Hose Ftting
4 × Ceramic Cup
4 × Ceramic Ring
4 × Hose Clamp
4 × Electrode
4 × Nozzle